In Memoriam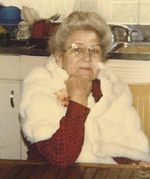 Post a Tribute:

Light a Candle

Place a Flower

Place a Stone

Offer a Prayer

Email Curator
Share this:
---
Ruth VanGronigen
1910 - 2008
RUTH MAY VANGRONIGEN, 98, went home to be with the Lord on Sunday September 14. She was born in Otway, Ohio on August 23, 1910 to the late Ord Newman and Annie Florence Adkins Newman.
She leaves to cherish her memory; four children, Robert Lee Johnson of Watseka, IL; Jennie Marie Torbet (Bernard) of Milford, IL; Shelby Jean Mercer (Randell) of Blanchester; Cora Sue Constant, of Wilmington
10 GrandChildren; Stephen Torbet, Larry Torbet, Charles Torbet, Ruthanna Daughterty, Vickie Tempel, David Johnson, Michael Waters, Jeffery Edwards, Deborah Edwards, Stephanie Abt
23 Great Grandchildren; Anglea Cruppenink, Heather Lehman, Jerry Torbet, Kory Torbet, James Torbet, Robert Torbet, Alan Torbet, Monica Davenport, Christina Daugherty, Amy Daugherty, Eric Tempel, Amy Meharry, Mickey Waters, Derick Haynes, Stacy Waters, Lori Waters, Bryan Waters, Angela Edwards, Lisa Edwards, Jordan Edwards, Skylar Edwards, Andrew Abt, Brandon Abt
10 Step Great Grandchildren; Ryan Bolin, Aaron Bolin, Rochella Mattix, Krin Smith, Darcy Bornas, Angela Hutchins, Deanne Hutchins, Brenda Fox, Jeff Hutchins, Emmy Combs
15 Great-Great Grandchildren; Nick Cruppenink, Karis Lehman, Daniel Lehman, Julia Lehman, Lydia Lehman, Sara Torbet, Jillian Torbet, Zora Torbet, Katherine Torbet, Elizabeth Torbet, Brandon Torbet, Joseph Tempel, Claire Meharry, Stormy Waters, Rainy Waters
10 Step Great-Great Grandchildren; Brook Smith, Brittany Smith, Tommy Smith, Brenen Bornas, Brenden Bornas, Brady Bornas, Nicki Harper, Haliegh Combs, Jaelynn Combs, Alaine Combs
2 Step Great-Great-Great Grandchildren; Brendon Howard, Braydn Howard And numerous nieces, nephews and cousins
She is preceded in death by her Husband, Richard C. VanGronigen, one foster son, Clifford Bennett, three brothers, three sisters, one granddaughter, and one great grandson.
Services will be held at 11AM on Friday at the Wilmington Church of Christ where family will receive friends Thursday evening 5:00 ? 8:00 PM. Keith Dimbath officiating. Burial will follow in Resthaven Memory Gardens, Hillsboro, Ohio.